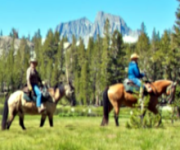 Daily Guided Trail Rides, or Overnight Backcounty Pack Trips into the Ansel Adams Wilderness
Ride on one of our Fully Guided and Hosted tours, or Hike in and let our Stock carry your load.
Expert and Knowledgable Staff to serve your needs, Gentle and Friendly Horses and Mules.
Special trips such as the Wild Mustang area, or the June Lake to Bishop Horse Drive.