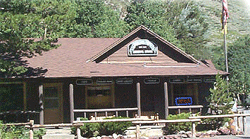 Open last week in April thru mid-October.
Sixteen rustic cabins fully equipped, each sleeps between 2 and 8. On-site pond, creeks, general store, gift shop and cafe. Located on Silver Lake near the Rush Creek Trailhead and Frontier Pack Station. No Pets Allowed in the Cabins. (Pets Allowed in RV Park).
Silver Lake Cafe Great home-style breakfasts are a long-standard tradition at the Loop's original resort. Hearty omelettes, pancakes, and the biscuit gravy recipe make this place a classic June Lake Loop experience. Lunchtime brings the famous fresh burgers and sandwiches, or perhaps a bowl of chili. Be aware that this is a small restaurant and can be very popular. There may be a wait for a breakfast table, but well worth it if you have the time.
Boat Rentals Boat Rentals are available at the edge of Silver Lake, just a few yards across the street from the Resort Store.
Silver Lake RV Park The RV Park is next to the Trailhead, overlooking gorgeous Silver Lake and the USFS Silver Lake Campground, Parking lot and Boat Launch.

in partnership with Inyo National Forest
RV Park Video Tour: