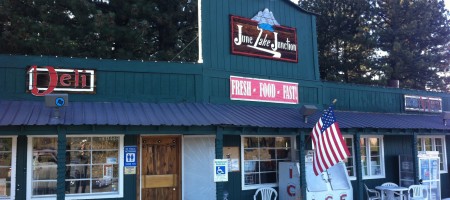 June Lake Junction Shell and Food Mart
Shell Gasoline, Auto and Food Mart
Auto Supplies, Oil, Groceries, Beer and Wine, Personal Needs.
At the South Junction of the June Lake Loop Road with US Highway 395.
Crater house Caffe Coffee Bar, Featuring Coffee From Equador Estates, Hand-Dipped Breyer's Ice Cream Cones, Milk Shakes, and Other Ice Cream Treats.
Fresh Baked Bread and Sliced Meats for Deli Sandwiches (Call ahead and we'll have them ready for you to pick up.), Homemade Chili and Soups,
Breakfast Sandwich and Burritos, cinnamon rolls , muffins, scones, and cookies baked daily.
Propane Cylinder Eschange and RV Disposal Site
(760) 648-7509